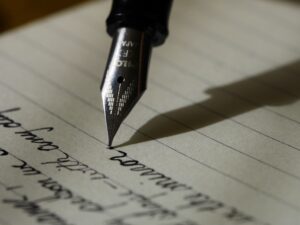 I ordered and read The Book of Longings last week. Written by Sue Monk Kidd, author of The Secret Life of Bees and The Dance of the Dissident Daughter (required reading for any woman who grew up in the church), it is the imagined story of Ana – wife of Jesus.
I won't give the plot away, nor is that what this post is about; rather, the prayer Ana recites, cherishes, and lives into:
…Bless the largeness inside me, no matter how I fear it. Bless my reed pens and my inks. Bless the words I write. May they be beautiful in your sight. May they be visible to eyes not yet born. When I am dust, sing these words over my bones: she was a voice.
She was a voice.
She was a voice.
This nearly takes my breath away. 
But not before I inhale deeply – and then exhale an inexhaustible stream of words and emotions about how profoundly I long for this to be true. For me, to be sure. For my daughters. For my friends. For you. For countless women of the past who were not given voice (and about whom I write).
For too many women, yet today, who are still silenced – because of patriarchy, political realities, racism, bigotry, abusive marriages, fear, oppressive corporate structures, a predominant culture that blatantly prefers us quiet and compliant. The list goes on. 
Still, she was a voice.
More powerful than all that holds us down and back, within and without, is exactly that for which Ana prays:
sing these words over my bones: she was a voice.
A woman's voice heralds wisdom.
A woman's voice offers truth.
A woman's voice brings justice.
A woman's voice articulates desire.
A woman's voice invites hope.
And without a woman's voice? Well, that explains everything, yes? The lack of wisdom, truth, justice, desire, and hope. The list goes on.
If we want a world defined by wisdom, truth, justice, desire, and hope, then we must be a voice.
We are the ones who speak into being the life and reality we long for. This is the largeness within us…
No matter how we fear it.
Be the voice. The voice that you alone can express and embody. The voice that whispers and shouts within. The voice all of us long to hear – and already know dwells within you. Beautiful. Powerful. True.
She was a voice. May it be so.
My voice comes forth, at least in part, by reimagining and recreating the voices of other women – some you've heard of, many you have not. I do this through Readings – the personalized and powerful voice of one woman who speaks into your story in bold and winsome ways – who is already choosing you. 
I'm days away from making 2021 New Year Readings available (with an amazing discount!) All the wisdom, truth, justice, desire, and hope you desire and deserve as you (finally) put 2020 behind you and step boldly, courageously, and beautifully into all that is ahead – including your voice! SIGN UP to be the first to hear.
[Photo by Aaron Burden on Unsplash]