I am 60 years old today. How is that even possible?
The days leading up to this one have been filled with reflection, to be sure. I suppose that is always the case, but this year – given that 2020 has been, well, 2020 and that I left my corporate position and that both of my daughters have moved far away from the city we've called home for 25+ years now and that I'm turning 60 (!!) – it feels like a lot.
Still, there is a lot to be grateful for: health, family, friends, airplanes (made far more accessible, hopefully, in the months to come). And this year, in even more significant ways than ever before, I am grateful for the ancient stories of women that have endlessly companioned me along the way.
I drew a card for myself this morning. Though I've done this literally thousands of times – for others and myself – I never cease to be amazed by who appears and what She has to say. As I shuffled the deck, I asked "What is uniquely mine to know on this, my 60th birthday?"
Ready for this?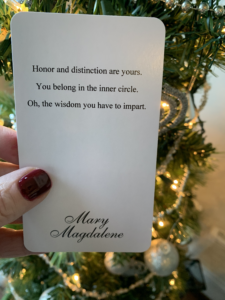 Mary Magdalene:
Honor and distinction are yours.
You belong in the inner circle.
Oh, the wisdom you have to impart.
I could tell you of her story – how it's been told, how it's been misunderstood, how she's been silenced and shamed, and still, how she rises up anyway, always, and speaks. I could tell you of the many ways in which her story mirrors my own. And I could certainly tell you much of how powerfully these three themes speak to my heart. Maybe I will do all of this and then some in a later post…
But right now?
Oh, how this touches me. (Had I done this on video, you would have seen my tears.) Oh, how I needed these words – her words. And oh, how relevant and timely and compelling and challenging and honoring! Especially since this is exactly why I'm writing this post in the first place today…
Honestly. I started this post because it is my birthday. Because on my birthday I offer New Year Readings to you at a wildly discounted rate. Because I haven't done this the past 2 years. Because 2020 has been, well, 2020. Because I am offering them again this year (at a wildly discounted rate).
Honestly. I hadn't intended to draw a card today, right in the middle of this writing. I certainly couldn't have anticipated who showed up on my behalf. And I shouldn't be remotely surprised.
Honestly. This is always what happens!
And this is perfect, actually! You can see who has shown up for me and I can invite you to find out who longs to show up for you. Truly. There are 51 more stories I work with besides Mary Magdalene's – each of them powerful in their own right, each of them offering exactly what you need to hear and trust in 2021. Because, let's be honest:
You deserve a year that does not disappoint.
Your 2021 Reading and the woman within will provide you every bit of the advocacy, wisdom, and grace you desire and deserve.
How can I be so certain? Well, the list of reasons is endless. But for now, let's go with what just happened – for me (which is exactly what will happen for you)!
Today, my birthday, right now – I am clear and certain that honor and distinction are mine because I have the privilege of doing this work in the first place, being blessed by the presence and power of these women, and offering every bit of that to you. I am standing in an "inner circle," embraced by 52 amazing women and their stories. And I am imparting wisdom – learned over 60 years to be sure; but endlessly supported by that of the ancient, sacred women who long to support you. Perfect!
Oh, how I'd love for you to receive all of this for yourself – as gift from me; the gift of your 2021 Reading. 
And the "wildly discounted" part?
Starting today, in honor of my 60th birthday, I am offering the first 60 Readings sold at 50% off.
*****
I still find it impossible to believe that I am 60 today. But it's not impossible for me to believe that I get to be here, right now, writing this post on this day and miraculously, graciously, still offering my deepest heart to you: these women, their stories, their knowing – and all on your behalf.
I hope you'll take advantage of the 50% off. More, I hope you'll receive the 2021 Reading that is yours – already waiting for you and filled with the perfect-perfect-perfect words your heart longs to hear, your year longs to make manifest, and your deepest, truest self longs to live into.