Maybe it's only me, but no matter how long it's been since some of my less-than-stellar stories took place, I still hear an inner dialogue, an incessant chatter, that keeps droning on.
An example:
I was incredibly insecure as a teenager. I didn't go to more than a couple dances, wasn't invited to the weekend parties, and never had a boyfriend. I was convinced that all of this was because I wasn't good enough, pretty enough, enough-period, to merit any of the privileges that were reserved for those who clearly were good enough, pretty enough, enough-period. (I agree: pretty typical teenage angst.)
Here's the irony: at the very same time that I bemoaned virtually everything about my life, I was getting straight-A's, performing in piano competitions, and fulfilling multiple leadership positions at school.
Somehow, the latter didn't make up for the former. Despite the good things happening around me, to me, even because of me, the "noise" of feeling not enough drowned out nearly everything else.
And that noise was (and is) the story I told myself — over and over again.
Even more ironically, no matter the ways in which my life has changed over the many decades since then, no matter how much data I have accumulated as evidence of my inherent value and worth…
I still hear that voice inside. It still chatters away. It is still a story I tell myself.
Maybe you can relate?
You have your own version(s), I'm sure. Stories you told yourself as a teenager, even younger, and certainly ongoing, that have not remained isolated to those years alone.
The stories we tell ourselves, no matter how long ago, persist, inhabit, and stay. They keep on chattering…
And despite the effort we've extended to not give them space or thought or energy, they just. keep. talking.
We believe them: these stories we tell ourselves.
Here's the thing: I don't want to be controlled by default, or live a story that is not one I intentionally choose.
And so…
I listen even more closely…
What is this story really about? When I pay close attention to the internal dialogue and incessant chatter, what do I actually hear?
What beliefs about myself have I formed (and reinforced) because of its presence?
Are they actually true?
What IS actually true?
Once I am willing to see, name, and acknowledge the stories I'm telling myself, then and only then, can I respond, change, and choose what I'll hold on to — or not.
I get to choose what I am willing to believe…and what I can now release.
Mareo McKracken said
"Our reality and our actions will always match the story we believe."
Mmmmm. Indeed. We get to decide about the stories we believe — the ones we've been told and the ones we tell ourselves – along with the chatter that accompanies. And then we can just. let. go. and instead, hear our own voice, our endless and infinite wisdom and truth. Ahhhhhhh. 
*****
The ongoing work of looking more closely at stories — those that you've been told and those that you tell yourself — is an important part of SOVEREIGNTY: my 9-week program.
I am convinced that those stories are often the very things that determine sovereignty's absence instead of its presence, that hold you back from being all of who you know yourself to be.
And this is what I want for you! Authenticity. Alignment. Full integrity. EVERY BIT of who you are – showing up in all your amazingness and gloriousness!
May it be so.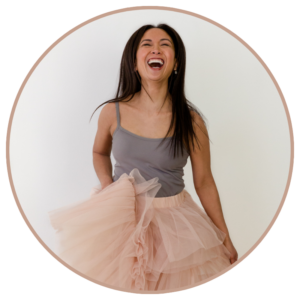 I cannot recommend Ronna & SOVEREIGNTY enough. Through the nine weeks together, I rediscovered the Sovereignty that has always existed in me, but was buried through conditioning and fears. Ronna seamlessly weaves structure and a framework, along with ancient, sacred stories of women — some of which I knew, others I didn't. By reclaiming those stories of silenced women, we learned as participants to reclaim ourselves — to tell our own stories, to claim our own stories, and to claim our sovereignty. Every week I looked especially forward to these stories, which now feel a part of me. There is SO much wisdom through the container that Ronna provides.  Beyond grateful. ~ Tricia Bolender, Executive Coach
All the details are here. Registration closes on Monday, 9/6/21.