A number of years ago I learned about intertextuality.
It is how one text speaks to or shapes another; how seemingly distinct texts can be in relationship with one another.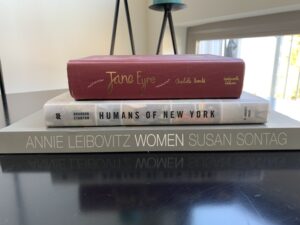 Here's an example: three books stacked together in my home:
Jane Eyre by Charlotte Bronte is the powerful story of a womans moral and spiritual development in 1st-person prose.
Humans of New York by Brandon Stanton captures the spirit of a city (and our humanity) through photography.
Women is a collection of 170 photographs by Annie Leibovitz with an accompanying essay by Susan Sontag.
If they could talk to each other, imagine the dinner party conversation they'd have.
Jane Eyre and Bronte would talk with Liebowitz and Sontag about all that has changed (and hasn't) in women's perceptions of themselves. Stanton would jump in and speak of particular images he took where those very perceptions were what he saw through his lens – and sometimes just the opposite. Sontag, a brilliant critic, would draw everyone's attention to the larger themes and constructs present in all three of their texts: what we see, what we don't see, what that says about us.
There would be no end to the things they could discuss! All the ways in which their perspectives and protagonists and photographs and prose would overlap and intertwine. This is intertextuality. You have this kind of dinner party taking place in your life all the time: texts and stories that operate in exactly the same way – overlapping and intertwined and endlessly speaking.
But let's be honest: we work pretty hard to keep everything compartmentalized and separate. More than opposite ends of the dinner table, we often put our texts and stories in completely different rooms in the house. As example:
Your teenage years.
Your current Netflix binge.
The predominat way in which you "show up" at work.
These are not all at the table together, right? Chances are high that you are pretty determined to keep your teenage self as far away from your work self as you can. Still, let's acknowledge, shall we, that the two are completely interconnected?
It's possible that you are pretty sure your viewing habits on Netflix have nothing to do with your past or present. But when you apply the rules of intertextuality (even imagining such) you see they have much in common, much to discuss, and infinite overlap in the most curious and complicated of ways.
It's possible – and probable – that things can get even more complicated (and noisy) when you add in "guests" like cultural background, family of origin, organized religion, socio-economic status, politics, any number of things that have a tendency to bump into one another at parties, at dinner tables, and certainly within.
I'm not necessarily suggesting that you try to figure out how these particular "texts" speak to one another. (OK. I am actually suggesting that…) More than the details of being a teenager, watching Netflix, and going to work, this is my point:
It is necessary and profoundly healing to see the way in which the texts and stories of your life talk to each other all the time.
Want another three to consider?
The stories you were told growing up.
The stories you tell yourself (you know: that endless chatter in your head…)
The cultural stories and messaging you injest via social media, all media, the water in which we swim every damn day.
Again, picture the dinner party: Hansel and Gretle, Cinderella, even Eve are making polite and sometimes pointed conversation with your endlessly-chattering inner critic who you know so well. That inner voice, a bit on the defensive, is being assuaged by the latest IG Influencer or targeted FB ad – sitting there in all their slick beauty and endless promise. And later, IG and FB chat away with your childhood stories; their not-so hidden agenda of either reinforcing or rejecting what you've believed and held on to all these years.
It's true: intertextuality is *simply* a conceptual framework; but the stories and texts that are yours (conscious and not, known and unknown) are far more. They are real. They are active. And they shape every bit of who you have been, who you are, and who you will yet become.
Intertextuality, looked at another way, is considering – with depth, compassion, and curiosity – all that makes you who you are: the stories you are proud of and those you try to hide or wish you could evade. It offers you a way of looking at the complexity of your own life – the influences, the influencers, the pain, the joy, the harm, the hope – all of it speaking and speaking and speaking. Because at the end of the day…
You ARE your stories. And they are interacting with each other all the time, whether you take a seat at that imagined dinner table, or not.
So…why not pull up a chair?
Listen closely to your own texts, your own stories. They usher you into the wisdom and courage that is (already) yours; all that you long to experience and express.
Pay close attention to the stories you've been told. They help you better understand the stories you continue to tell yourself.
Determine, with great intention, the stories you will give credence to, will listen to, will allow and endorse. They create the world  you live in, the one we live in together, the one that is ours to nurture and heal.
None of this is easy. And as you know, few things that are of value rarely are. You are of value, though – worthy of any and every effort on your own behalf. So this is the question to ask again and again and again:
If my stories could talk (which they can and are), what do they have to say?
(If nothing else, look at the books on your shelves. Pick a few that are sitting side-by-side, and imagine what they talk about when you're asleep, what they have to say about you while you sleep and what they hope for you when you're wide awake. All. So. Delicious.)