How is it possible that you are 26 today? (The question I'm really asking is how it is possible that I have a 26-year-old as of today!!) The answer to both questions matter little. What matters most—and always has—is that you are here and you are you and every bit of that, every bit of you, is as glorious and amazing and full-of-life as ever.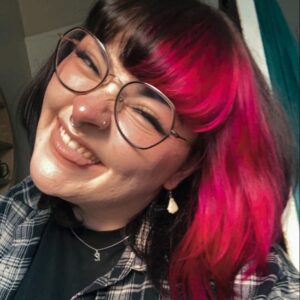 The day you posted this picture on Facebook, your update said, "almost 26, signing a lease on a new apartment tomorrow, and really excited about life in general
oh and my hair is pink 🙂" That pretty much captures it, yes? And every bit of your enthusiasm is made more beautiful given the work and effort and intention and courage you apply to who you are, what you value, and how to make your way in this life and this world. 
I read a book last week about the power of stories and magic, identity and culture, gender and hegemony, being a kid who only wants to be themselves. It was also about being a parent who only wants their kid to be happy . . . to make sure they know they are endlessly and always loved. It was fabulous. Made more so because it was the kid who taught the parents, the kid who understood, the kid who had the capacity to change the world and even if not, to be themselves in it anyway. 
And that's what I believe about you, Emma Joy. You have the capacity to change the world and be yourself in it. You also have the capacity to be yourself even when/if the world does not change . . . at least in the ways and with the speed you desire and deserve. 
As you navigate this world—both its brokenness and its beauty—not to mention work, money, friendships, choices, and so much more, I watch with awe and joy and delight and pride and hope and faith. And love. 
Happy 26th Birthday, Emma Joy. I love you – endlessly and always.